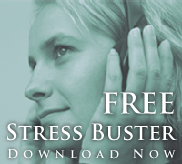 Stress Buster
Regular price $ 0.00 Sale
Warning: Due to iTunes® licensing limitations, iPhone® and iPad® users must download audio files to a desktop computer and then sync with their mobile device. For detailed instructions on how to upload non-iTunes audio files to iPhones®, iPads® and Apple® devices click here.
You can feel more relaxed and comfortable in minutes.
That's why we're providing this valuable tool to unlock your mind's power of relaxation at no cost to you. Relaxation, guided imagery, and other mind/body approaches have been proven to reduce stress and put you back in charge of your life.
In just 12 minutes, our free stress buster will have you feeling more relaxed, refreshed, and confident about the rest of your day.
Unlock your mind/body connection's power of relaxation.
Download the Free StressBuster now.
What Customers Are Saying